GFNY announces GFNY Kota Kinabalu
GFNY announces GFNY Kota Kinabalu
December 10, 2023
The Courses
The race begins from Sabah State Administrative Centre (PPNS) 
government office complex. PPNS is 
Borneo's 2nd tallest building and offers an awe-inspiring venue for the start and finish of GFNY Kota Kinabalu. Get ready for an unforgettable course in and around Kota Kinabalu passing important highlights and attractions of Kota Kinabalu, on police-moderated roads. 
The impressive early kilometers are along Jalan Tun Fuad Stephens, a coastal road that skirts the Likas Bay on your right. 
Following Jalan Tun Fuad Stephens, you'll pass the 
Sabah International Convention Centre,
 and proceed straight into the city of Kota Kinabalu where you will see attractions such as the Jesselton Pier, shopping malls, golf courses, and Kota Kinabalu airport before heading towards the town of Putatan.  
The Penampang–Kinarut / Papar Old Highway will lead you back to the city limits with some minor climbs before reaching the short but serious climb of Jalan Kolam Minintod. 
Continue north via the Tuaran Bypass Highway back to the city of Kota Kinabalu. 
The Medium Course riders will make a left turn at Jalan Sepangar, 
taking them back into the city towards the Finish Line at the PPNS building. Enjoy the post-race meal, music, celebrations and awards ceremony in front of the PPNS building.
The Long Course riders will continue riding north until the junction towards Tamparuli. Turn right at the roundabout into Jalan Tamparuli where you will pass a 200-meter-long Tamparuli Suspension Bridge before turning left into Jalan Topokon Labuaya. Enjoy a glimpse of the famous Mount Kinabalu on your right while enjoying a very challenging climb.
You will then get onto Jalan Tuaran–Kota Belud before turning right into Jalan Marabahai while passing the Horses Monument, a landmark of Tuaran District, before heading towards Jalan Sulaman, which you will stay on until the city limits. You will pass the famous grilled coconut stalls and the Royal Malaysian Navy Base at Sepangar Bay before turning into Jalan Politeknik, the Sabah Port Bypass, Jalan UMS and turning right towards the Finish Line at the Sabah State Administrative Centre (PPNS) building.
Long Route – 135.3 km / 1397 m+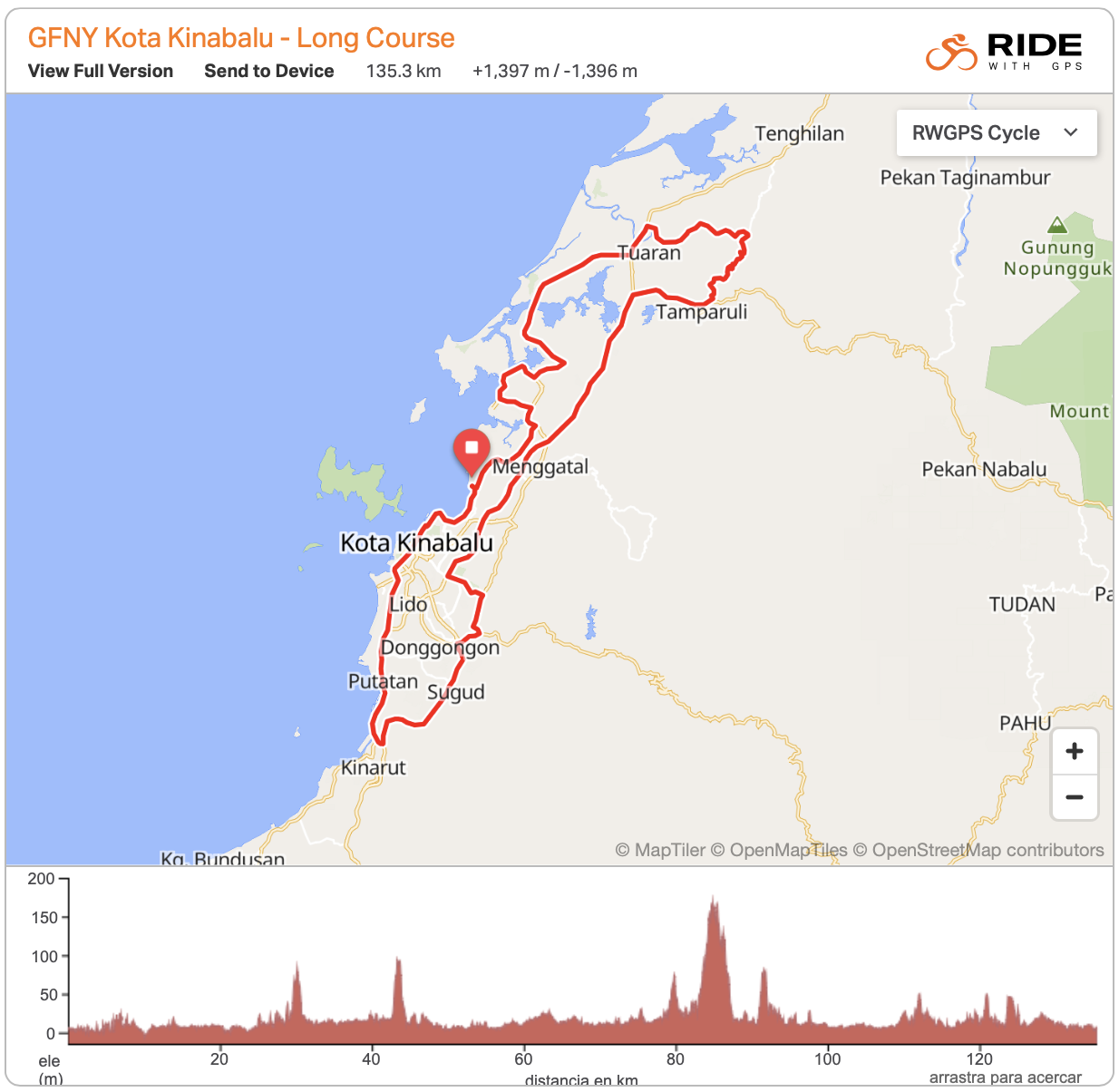 Medium Route – 69.3 km / 608 m+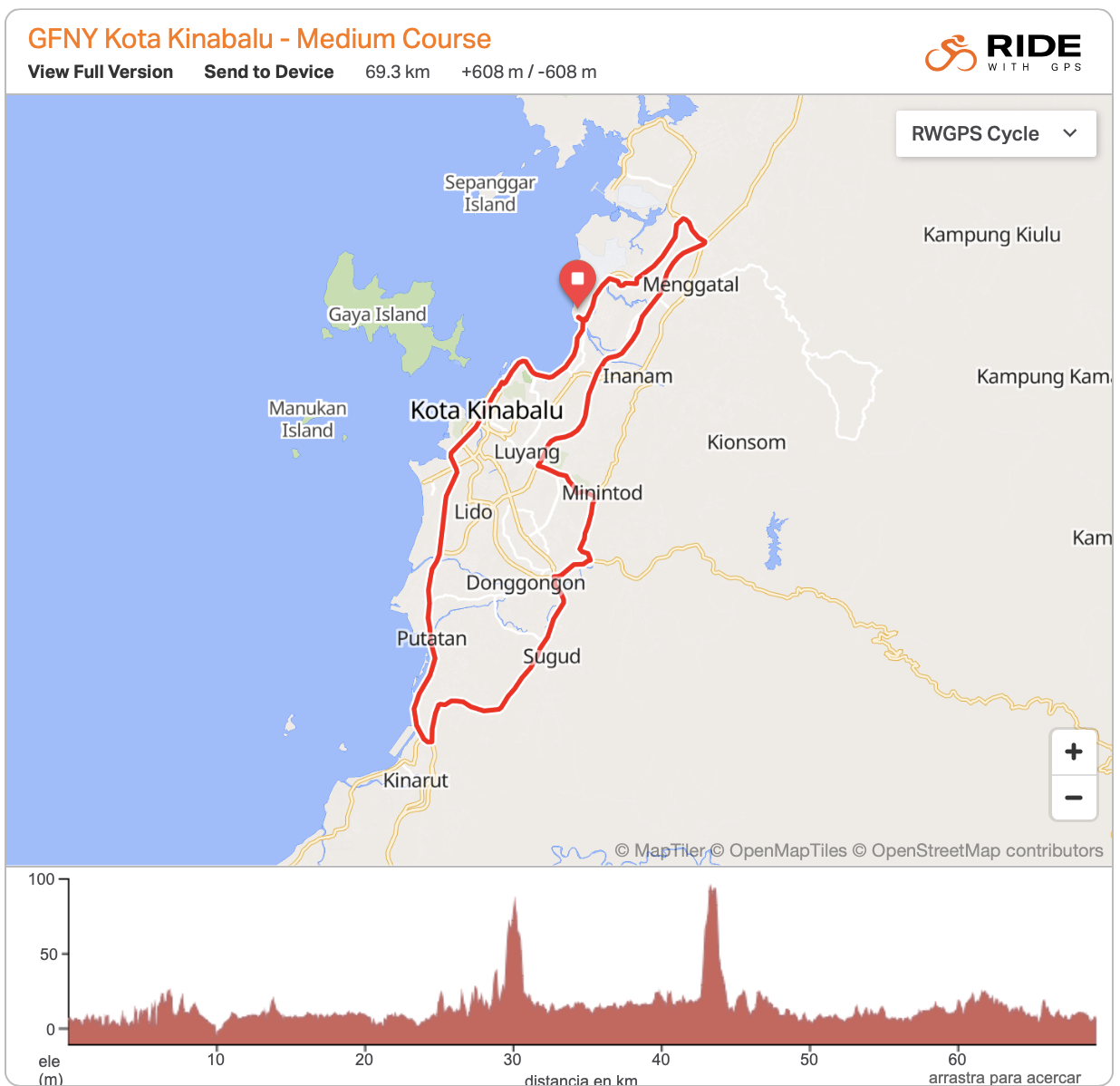 About Sabah
'Feel Sabah, North Borneo' is an invitation for you to discover the natural beauty of this land below the wind. Sabah offers spectacular natural wonders such as Mount Kinabalu, Maliau Basin, and Tip of Borneo, with rich, tropical wilderness, waterfalls, abundant wildlife & hiking trails.
Sabah's waters are home to 394 islands, and their countless beaches and majestic coral reefs. Sipadan Island is one of the top 10 diving spots in the world boasting clear water and impressive marine life.
Sabah is one of the most culturally diverse states in Malaysia with over 30 indigenous groups with their own languages and beliefs. Sabahans are proud of their heritage and are always open to sharing their customs and traditions with the world.
Kota Kinabalu is the capital of Sabah in the northern part of the island of Borneo. Often referred to as KK, it's a coastal city partly surrounded by rainforest. It's known for its bustling markets, modern boardwalk, beaches, and waterfront Kota Kinabalu City Mosque. It is also the gateway to Kinabalu National Park, Malaysia's first UNESCO World Heritage Site, which is the home of the 4,095m-high Mount Kinabalu.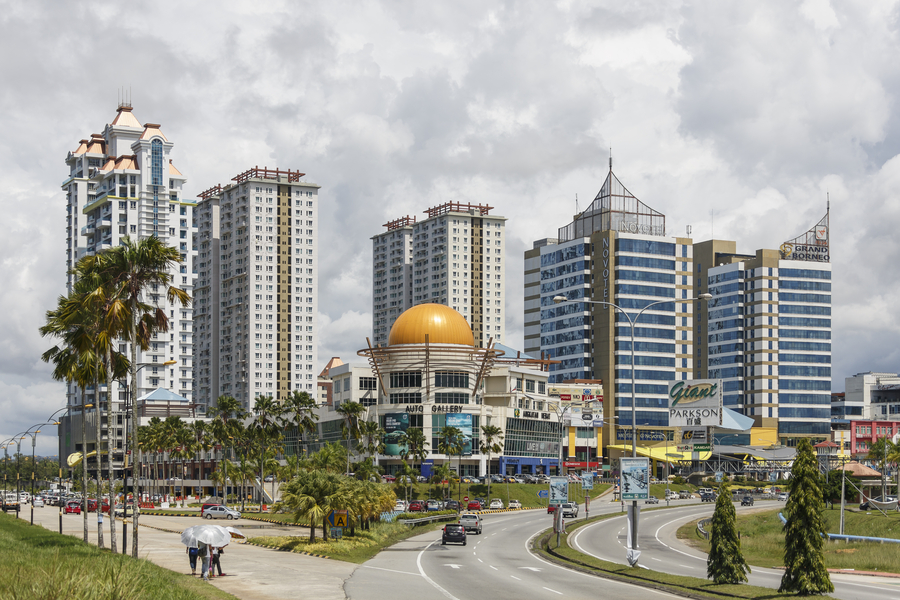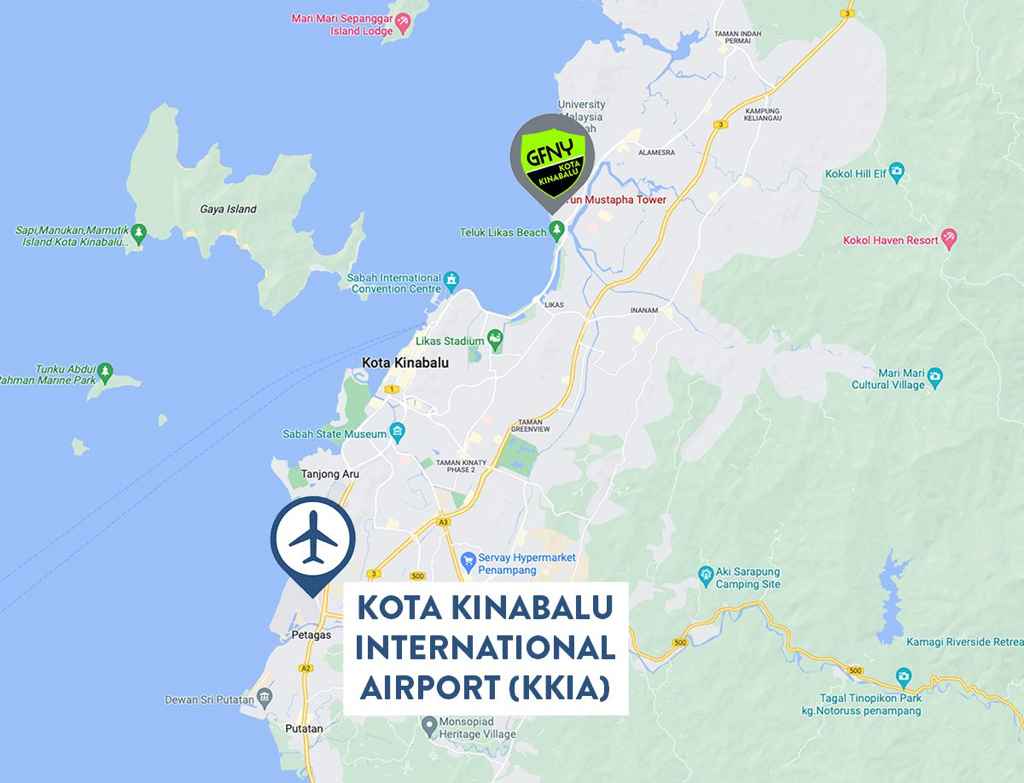 Airports
The Kota Kinabalu International Airport (KKIA)
 (IATA:BKI), located approximately 8 kms southwest of Kota Kinabalu city center, is the main gateway to the State of Sabah. KKIA is the 2nd busiest airport in Malaysia behind Kuala Lumpur airport.
KKIA serves as an important hub for most of the local airlines such as Malaysia Airlines, Air Asia, Firefly, Batik Air, MASwings and many other international airlines like Shanghai Airlines, Jeju Air, Royal Brunei, Air Busan, Scoot, Cebu Pacific Air, Air Busan and many more.  
International travelers can also connect to KKIA via Kuala Lumpur International Airport, Penang International Airport, Singapore Changi Airport, Manila Ninoy Aquino International Airport and Brunei International Airport. 

Airport transfers
Metered Taxi
The best option is to take a taxi from the airport to the city center. It will take about 15 minutes to reach the city center, and the cost is approximately 30 MYR (approximately $7 USD).
Shuttle Bus
Another option and the cheapest way to travel from Kota Kinabalu Airport to the city center is by bus. You can take the local bus for a cost of 5 MYR (approximately $1.5 USD). The bus journey takes around 25 minutes.
Grab (Similar to Uber)
You can book a Grab from KKIA, go to the area called Pickup/Drop-off point.
Shuttle/Limo services
Some hotels in Kota Kinabalu may provide shuttle/limo services from the airport to their premises. If you have pre-booked accommodation, it's worth checking with your hotel if they offer this service.  Another option is to check with the Official Travel & Tour Agent of GNFY KK for all available transportation and tour services.
It's important to note that these transportation options are subject to change, so it's always a good idea to check for updates before your trip.