GFNY announces GFNY Villard de Lans (France)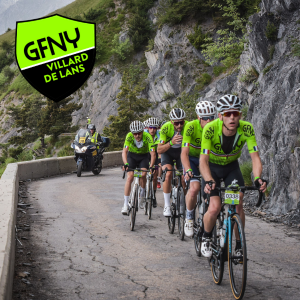 Scheduled for May 29, Villard de Lans (France) will host the GFNY European Championship
GFNY Villard de Lans is the latest addition to the GFNY Global Endurance Sports Series, making it the fifth GFNY cycling race in France in 2022.  Scheduled for May 29, 2022, riders will get to experience a race that is equally hard as it is beautiful. 
Host town Villard de Lans is located in the mountainous Vercors region of France at an altitude of 1050 m. The village has preserved its architectural heritage and its friendly atmosphere, and cyclists can enjoy riding on the spectacular roads of the Vercors. The curvy and fun 19th century routes and the exceptional panoramas they offer have made Villard de Lans and the Vercors famous.
GFNY Villard de Lans will host the GFNY European Championship in the 2022 race season. The race offers a long, competitive and a medium, non-competitive course. Both travel through the heart of the magnificent Vercors Natural Regional Park, where riders will race on the stunning roads cut out of the cliffside, along imposing limestone escarpments and through green valleys. The long course is 158 km with a 3865 meters of elevation featuring Col de la Croix Perrin and a final climb to Villard de Lans which has been featured several times at the Tour de France. 
"GFNY's expansion in France is obvious because any corner of the country is a cyclist's dream," says GFNY CEO Uli Fluhme. "Villard de Lans has reached out to GFNY in pursuit of hosting the GFNY Europe Championship. From the first contact, it has been an absolute pleasure to work with their team. It's clear that they love their town and know how to host large sporting events, including no less than the two of the three largest: the Olympic Games and the Tour de France."
"In 2022, thanks to the hard work of the operating team at GFNY France under Tiphanie and Cedric Haas, GFNY riders get to pick from at least five GFNYs to fulfill their dreams of racing in France."
Website: villarddelans.gfny.com
About GFNY Global Endurance Sports Series
GFNY Global Endurance Sports Series is a sports event company with three decades of experience in racing, planning and organizing events. The global endurance sports brand hosts multiple events throughout the year around the world on five continents.
Working with partners around the world to deliver a first-class experience, GFNY Global Endurance Sports Series puts their athletes first.
Cycling
20 plus events around the world. View the 2021-2022 calendar here
Riders get to BE A PRO FOR A DAY ® by competing against others, themselves and the clock in a personal endurance challenge.
Top 10% (20% at regional championships) of finishers in each age group qualify for the Racer Corral at every GFNY World event.
GFNY World Championship NYC
The 10th annual GFNY World Championship New York will be held on May 15, 2022. The race features the world's most international peloton with riders from over 90 countries. Athletes take on a challenging 100-mile route from NYC to Bear Mountain to Fort Lee to compete against each other, the clock and themselves in a personal endurance challenge.
The official GFNY website is: www.gfny.com.
Further Material for Media Use
GFNY Villard de Lans video: here
GFNY Press Images: here
GFNY Results: here
GFNY World calendar graphic: here
Previous GFNY press releases: here
Media Contact
Gran Fondo New York Inc.