GFNY Villard de Lans Course Guide
GFNY Villard de Lans
Villard de Lans is located in the Isère Department of the Auvergne-Rhônes-Alpes Region In the Southeast of France. The town is situated in the Vercors Massif which makes it a center point for skiing in the winter, and hiking and cycling during the warmer seasons. The nearest international airport is the Lyon airport, located only 130km from Villard-de-Lans. Other airports you can fly to are Paris, Marseille, Geneva or Milan.
The central meeting point will be at Les Balcons de Villard. Packet pick up, expo, start, finish and post race activities will take place at this point. It is around 5km away from the city. The GFNY France team has created 2 beautiful courses for the inaugural GFNY Villard de Lans. The long competitive course will take the riders over 163,4km (101,5ml) and an elevation of 3.973m (13035ft). The medium, non-competitive course has a total distance of 69.3km (43mi) and an elevation of 1.782m (5.847ft).
Let's have a closer look on how to tackle GFNY Villard de Lans and what to expect on race day.
Be A Pro For A Day.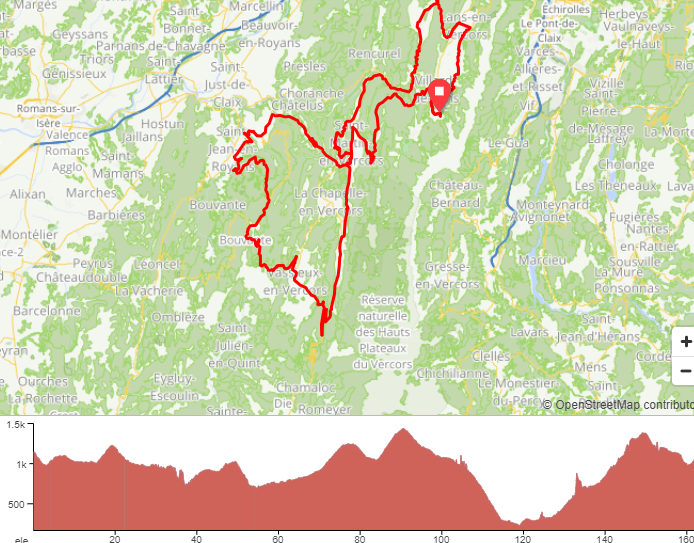 The start
GFNY Villard de Lans starts at Le Balcon de Villards is around 5km away from the city. For pre-race peace-of-mind, be sure to check your route to the start line at least one day before the race. Race corrals close at 7:45am, and the race will start 15 minutes later at 8am. Riders may need to bring a jacket as it can be cold in the mountains during the early morning.
You will start your GFNY Villard de Lans with a 3km downhill, that is short and fast. The course will go up and down over the next 12km, and this will make the race difficult from the start. Expect some high speed here in the downhills. About 15km into the race you will reach the first categorized climb, Col de la Croix Perrin. This is not a climb to use as a "warm-up climb", given its length of 4.2km, an average gradient of 4.7% and max percentages up to 13%. To make the best showing in the race, you will need to get out in front on this climb. After a 5km descent you will get to a rolling hill section of the route, make sure you eat and drink enough on these sections, as you will not want to try and eat solid food during the bigger climbs.
At 37 kilometers into the race you will reach a 5 kilometer climb that is not actually categorized. This is why it's important to study the route in the days before the race or use our profile stickers on your handle bars, to always know where you are on the course. Another uncategorized 5km climb starting from Saint-Julien-en-Vercors and a 5km long descent brings you to one of the toughest parts of the race, a 15km long section which increases in gradient slowly. Strong riders can push a big gear here and will try to drop other riders. But don't be fooled because at the end of this 15km long section there will be another non-categorized climb of 5km. Careful – if you try to stay with a fast group on the 15km before this climb, you may get dropped as the road goes up. The smart move is to ride at your own pace, as you may catch others and leave them behind on this 5km uncategorized climb. From the summit, a short 7km downhill will take you right into the next climb.
Station de Font d'Urle
Station de Font d'Urle, is your second categorized obstacle after Col de la Croix Perrin earlier in the race. Station de Font d'Urle starts after 79km of racing, and you will need to climb for 6km and conquer an average gradient percentage of 5.5%. After this climb you will have a long section of recovery, with more than 20km downhill. This is the perfect moment to give your legs some rest after a difficult first part of your race. Refuel your body, eat and drink enough and prepare yourself for the last stretch of the race.
Col d'Herbouilly
What goes down needs to go up again, and you will climb for  almost 20km, with the first 10km slow and steady, and the last 10km categorized as the 3rd climb of GFNY Villard de Lans.  This is Col d'Herbouilly. 10km of climbing with an average gradient of 6%. You will likely see signs along the road on the climb that say, "it's just a hill, get over it". It's more than just a hill, this is a climb that will start to hurt after more than 100km of racing. Finding your own pace now, will be more important than ever. Don't look to others, it's just "me, myself and I" at this moment of the race. The race is not over yet so you will need to save some energy. 11km of downhill roads will be your last recovery before you finish your GFNY Villard de Lans.
Côte 2000
Côte 2000 will be the last climb that you need to conquer before you can celebrate your GFNY Finish and get that amazing GFNY Medal! Côte 2000 is only 3km long but with an average percentage of 5% and after 155km of racing it will definitely be a climb that will hurt most riders in the GFNY Peloton at GFNY Villard de Lans. Give it your all one more time from the bottom until the top of the climb. Your friends and family will be waiting for you to celebrate with you.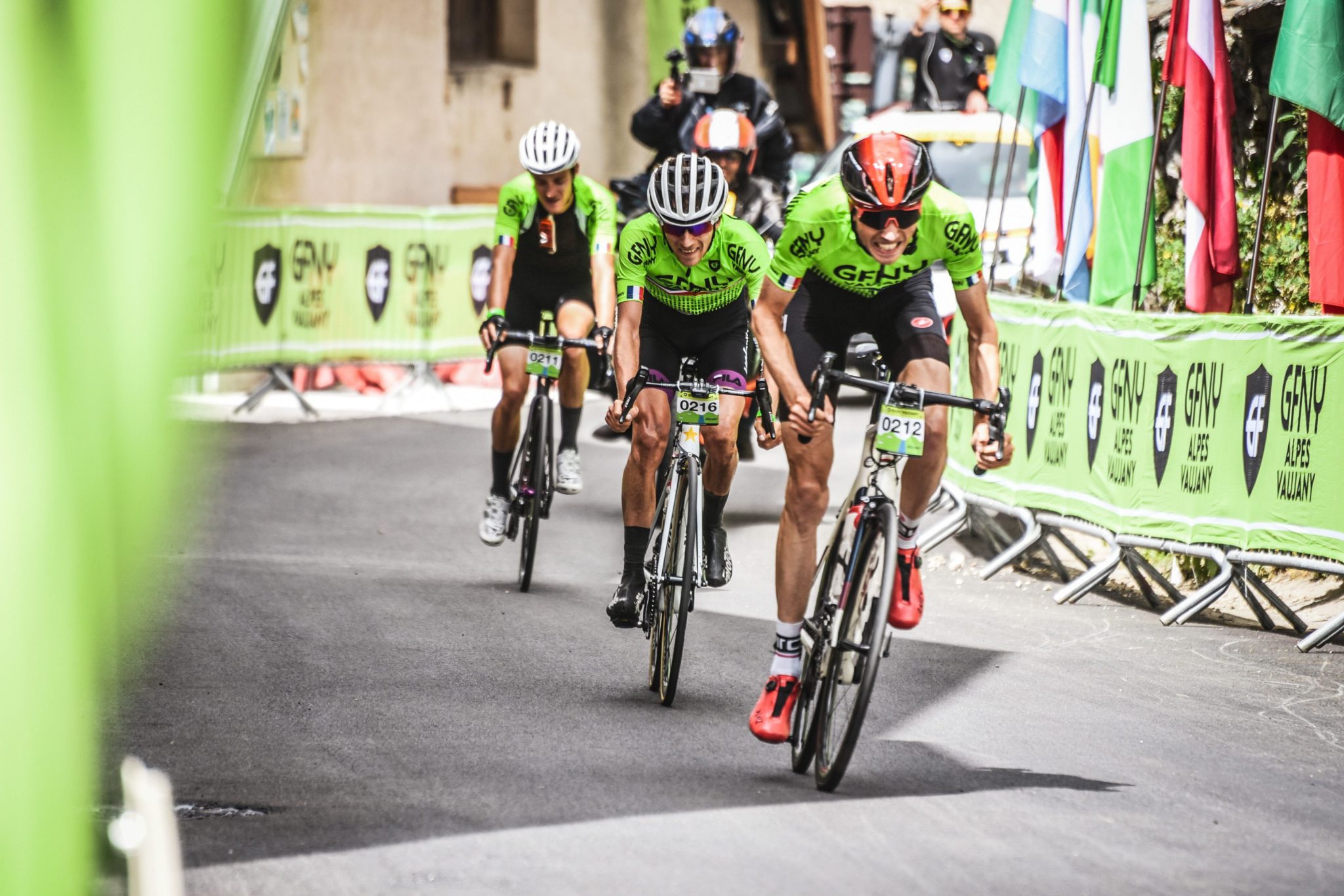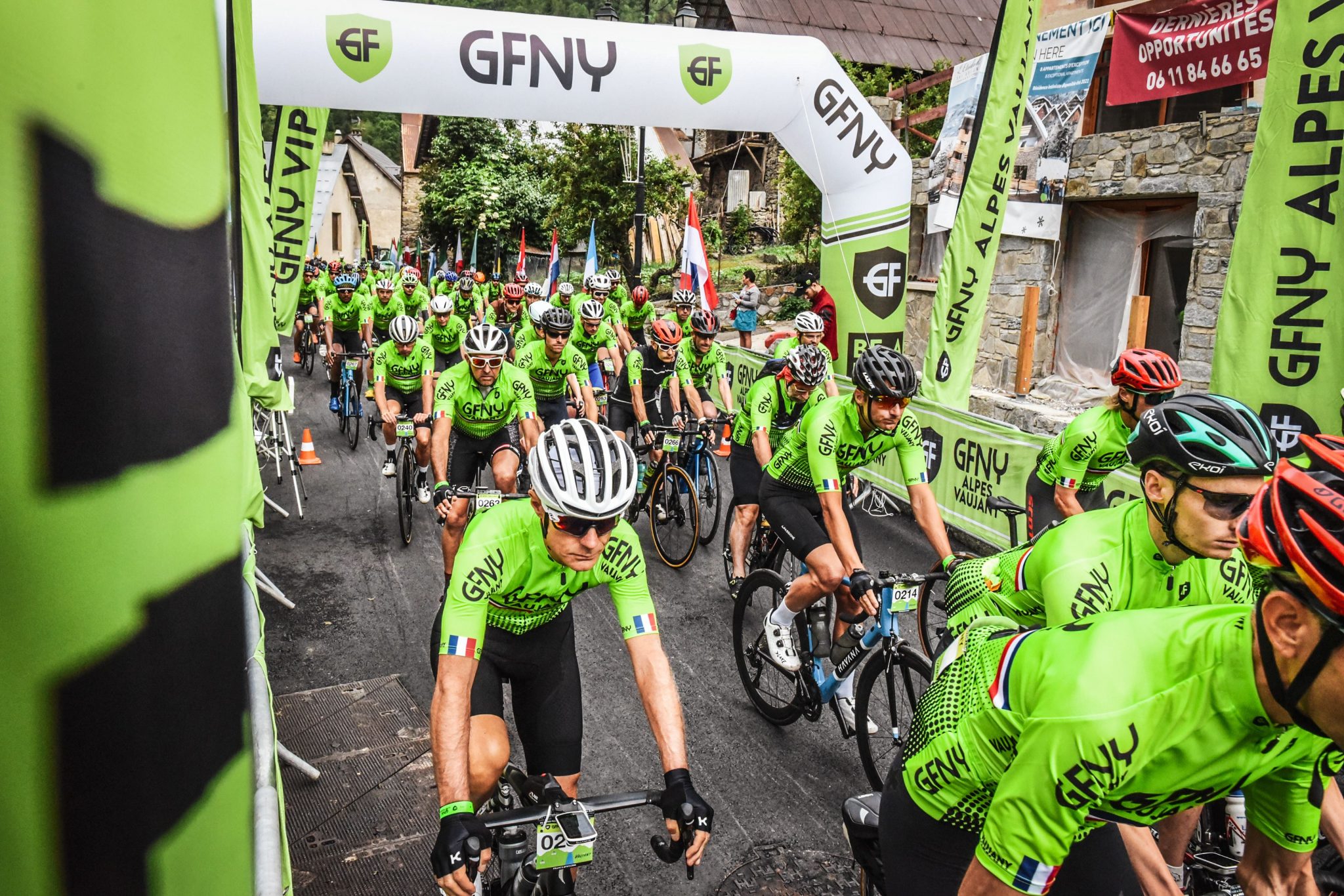 Tags: Coaching