Q&A: Meet Rob Weissman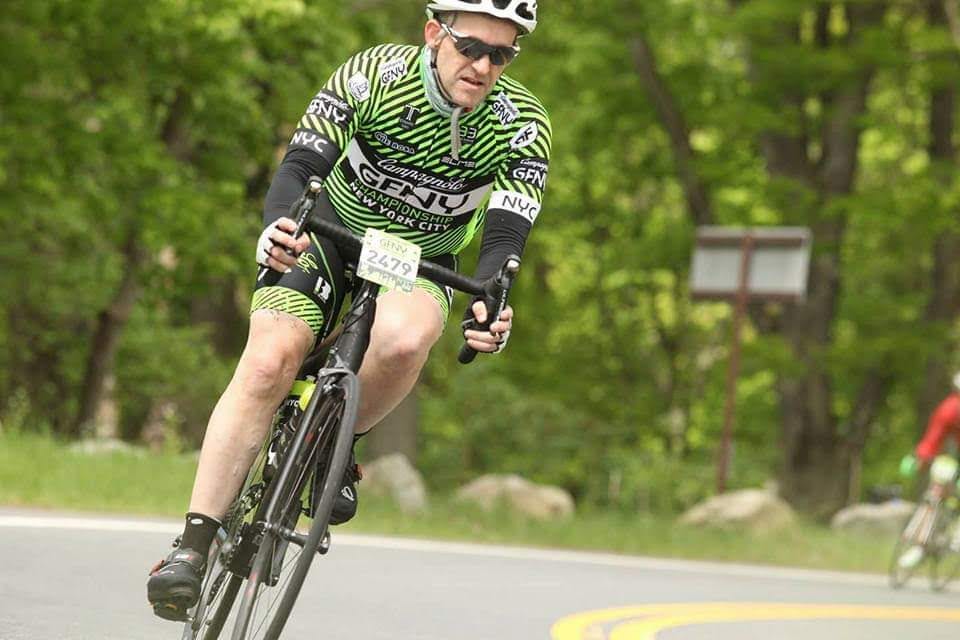 Walden Siew: How did you get back into riding?
Rob Weissman: "In my late 20s and 30s, my career and family life took me away from cycling, except for teaching my kids to ride, which was one of the great joys of fatherhood for me. At 45, having gotten way out of shape, I began dieting and riding again; I dropped 50 pounds and I bought my first clipless-pedal road bike — an aluminum Giant Defy 2. A month later I went on a couple group rides with my local cycle club. Two months after that, I decided that I wanted more of a challenge and I looked up local cycling events. 
WS: Why did you start riding Gran Fondos and the GFNY event?
RW: "One of the first that I found was GFNY NYC. Not realizing that I was jumping into the deep end of the pool after a total of five lifetime group rides, I signed up for the Bear 50, thinking that if things went well I might go for the 100-mile version. 
On Dec. 7, 2014 I showed up for my first GFNY training ride at Strictly Bicycles and went on the 35 mile C-group ride, led by Vito Valentini and Jared Skolnick, who became and remain good friends. Throughout the winter and spring the GFNY Gruppo Sportivo got me to the point where I moved up to the B group and was able to finish the entire 100 miles in 8:03. The following year, with more Gruppo Sportivo training, I cut 23 minutes off my time despite a double flat. Since then I have ridden GFNY NYC every year except for the COVID cancellation years and once when I hurt my back and couldn't train at all. I'm signed up again for 2023 and since May of this year I have been training with Jill Patterson, of GFNY coaching, with a goal of setting my best time ever this coming year."
WS: What bike do you ride now?
RW: "A 2016 Trek Emonda SL6"
WS: What is your dream bike or next bike?
RW: "Since I already have a climbing bike, I would love to add a more aero bike, like a Trek Madone, a Specialized Tarmac or a Pinarello Dogma."
WS: How many GFNY events have you done? Which ones and when?
RW: "I've done five, all of them GFNY NYCs:  2015, 2016, 2017, 2018 and 2022. Three 100 mile versions (2015, 2016 and 2018) and two Bear 50s when I started my training too late (2017 and 2022)."
WS: What has been the biggest adventure of your life?
RW: "The biggest adventure of my life has definitely been fatherhood. My kids are now 19 and 16 and the greatest joy in my life has been seeing them grow up into kind, generous, thoughtful young adults. Along the way, we have shared many, many hours of cycling-related family time; from teaching them to ride, to taking them out on our local roads, to riding large group rides with them. My son now rides my old Giant Defy and my daughter rides an aluminum Trek Domane. I'm hoping that someday they will join me for a GFNY NYC."
Have an interesting personal story to share for Inside the Peloton? Contact me at:
https://www.linkedin.com/in/waldensiew/
Twitter: @waldensiew
Email:
Tags: inside the peloton