GFNY Republica Dominicana Course Guide
GFNY DR Course Guide
Kilometers along the Caribbean, fast racing along fast terrain, some moderate climbing thrown in, along with a dose of wind-that's what makes up GFNY Dominican Republic. A Springtime treat that blends difficulty with enjoyability makes for an ideal early-season race. 
The GFNY DR course tackles 150 kilometers of racing with 970 meters of elevation change, starting and finishing in picturesque Punta Cana. 
But although the location is picturesque and the weather is likely to be perfect, the racing will be hard, fast, and dynamic. Today we're going to dig into the details of the course and discuss the challenges you'll face. Along the way, we'll help you consider your strategy and nutrition plan for the race. 
The Start
The race begins with a 26 km stretch leaving the center of Punta Cana and heading northwest. This initial stretch is on one side of a divided highway, with 2 full lanes for racing. 
The prevailing wind here is from the east, which would make for a cross-tailwind. However, the course is mostly sheltered on the right side, funneling the wind into a direct tailwind for most of this section. 
The wind combined with the wide open roads will make for very fast racing. During this stretch it's key to think of our race strategy and race accordingly. 
#Breaking 4
GFNY DR sees high average speeds, and the riders aiming for top results will all be aiming to break 4 hours. 
If you're aiming to break 4 hours and compete in the front of the race, the start will be key. The racing will be fast, with speeds north of 50 km/h, and you need to get to the front and be ready to watch for splits. On this course, if you are too far back while the peloton is still large, you can easily miss splits as riders ahead of you are dropped. That's why it's key to get to the front and stay there. 
The road is wide and there is room to move up, so you'll have your opportunity to do so. However, try not to waste too much energy doing so. Look for lulls in the pace to move up, or jump on the wheel of other riders moving up. 
#Breaking 5
The fast nature of the course means that breaking 5 hours is an attainable goal for many riders; breaking 5 hours will put you in the top half of finishers. 
It takes different tactics for a #breaking5 competitor to be successful in their goal than a #breaking4 athlete. 
The tailwind we're enjoying now will later turn to headwind, and the course gets more challenging later in the race. So for our athletes hoping to break 5 hours, now's the time to save energy. Start at a moderate pace, use the large pelotons and big roads to get sucked along in the draft, and don't make any unnecessary efforts.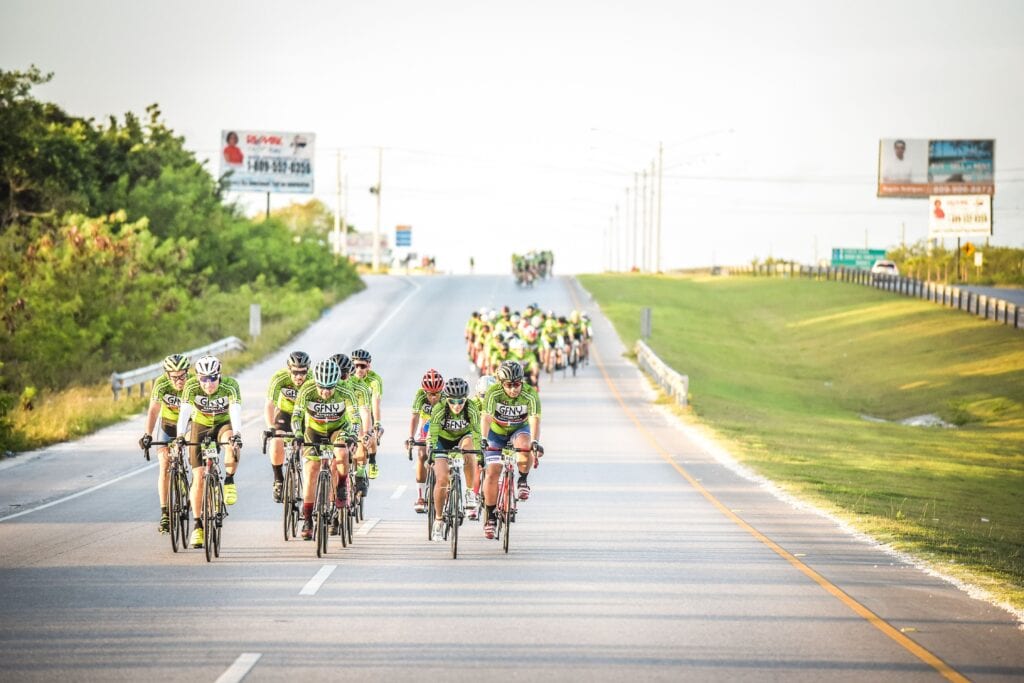 Flat roads and fast, tailwind-fueled racing at the start of the race. 
From KM 26 to the Turnaround
From 26 kilometers into the turnaround at 63 KM into the race, we continue in the same direction, but enter smaller, rural roads. If you have a second, enjoy the occasional views out over the caribbean. This section of the course is the fastest section of the course as a firm tailwind should push you along over flat, fast roads. 
Here, our #breaking4 riders should be relaxing, taking stock of the situation, and focusing on nutrition. The early selection has probably been made, and now it's time to think about saving energy for the back half of the race. 
Our #breaking5 riders should be thinking the same, still saving energy, focusing on their fueling, and rolling around at a steady pace. One important tip is to avoid stopping for very long: take advantage of this fast terrain to keep moving forward. 
Heading Back
At KM 63 we do a U-turn and begin to head back. 
Here the race begins to get a bit more difficult as the peloton tackles a headwind that will be in the face of racers for most of the second half of the race. 
At 80 km into the race we turn off of the out-and-back section of the course to head inland into hillier terrain. The next 45 kilometers tackles rolling, up-and-down terrain. 
Although these hills never get too steep, the first 20 km of this section heads gradually uphill. The terrain is a mix of false flat, short climbs, and downhills, but the elevation trends gradually uphill. The steeper sections of 5-6% offer a launch pad for attacks and aggressive racing. 
Our #breaking4 riders need to be on their guard here, following attacks and riding aggressively. This is the section of the race where some big selections will get made.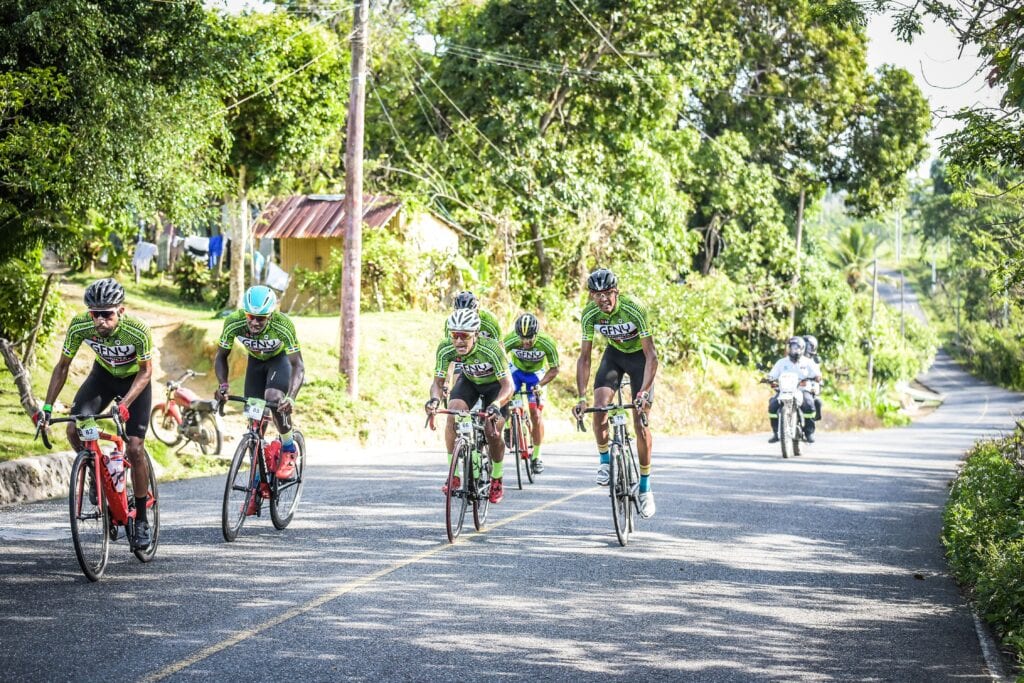 Small kickers combined with a fast pace will cause selections during this part of the course. 
#Breaking5 riders need to focus on keeping a good rhythm here. The hills are too short to gain or lose much time on any single hill. Instead, the way to make up time is to keep a constant rhythm: good pace on the false-flats, strong pace on the climbs, and take advantage of the downhills to build speed. 
After 100km of racing, we make a sharp turn and start heading back to the coast. 
Here we continue on rolling terrain, but now it's more downhill than uphill. Racing will be fast and furious, with the race entering its final 50 kilometers. 
The Finish Stretch
After 125 km we arrive back to the main road, take a right, and head back to town the way we left. 
This stretch is flat, wide open, and on a wide road. It's likely you'll have a strong headwind in your face as a final challenge to conquer. 
Our #breaking4 riders need to be thinking about tactics here. To record a good time it's important to keep a good rhythm into the headwind and finish in your goal time. However, if you're aiming for a good result, be careful not to do too much work relative to the other riders in your group. Sitting on the wheel in a headwind is a huge advantage, so if you do too much work, you'll be giving a free ride to those behind you. 
Our #breaking5 riders should be keeping a strong rhythm here, ideally working with as many other riders as possible. If you get stuck alone, be sure to look behind you to see if a group is coming where you can find some shelter. Avoid fighting the wind all alone if you can. 
The run into the finish and the final sprint is mostly straightforward. After nearly 25 kilometers on the same road, we'll take a left turn at a large roundabout 800 meters before the finish. Be sure not to start your sprint too early, as on the long finish straight you'll be tempted as you can see the finish from a long way out. If you're in a large group, aim to enter the final roundabout in the top ten riders, guard your position over the next 600 meters, and launch your sprint when you hit 200 meters to go. 
Nutrition
For such a long race in warm temperatures, hydration and nutrition are going to be important if you want to be successful.
Remember to take in 60-90 grams of carbohydrate per hour. The higher end of that is a good target for our stronger or larger riders, whereas smaller riders may be ok on the lower end of that range.
Staying hydrated is key, too: we advise aiming to drink 750 ml of fluid per hour, although this will depend on your sweat rate as well as the temperature on the day. Start drinking early and often to avoid getting behind on your hydration. If you want to be at the front of the race, it's a good idea to start with two large 750 ml bottles, along with perhaps a 3rd bottle in your jersey pocket. This will avoid you having to make too many stops during the race. If you arrive to the point where you're dehydrated and need fluid, yet the peloton isn't stopping at the next rest stop, you could get put in a tough place where either choice (stopping or continuing on) result in you sacrificing your performance.
We've written extensively about nutrition in the Training Guide section of GFNY Coaching, so be sure to check out our content there if you aren't sure about race day nutrition.